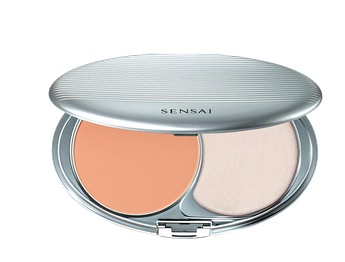 Cellular Performance Total Finish Foundation 11g.
solo online
---
Fondotinta in polvere che si stende facilmente donando al viso un aspetto naturale e una sensazione di idratazione. Attenua le imperfezioni, donando un finish luminoso. Grazie alla loro texture leggera, i fondotinta anti età SENSAI si stendono facilmente e donano alla pelle un finish naturale e una sensazione impalpabile. La pelle risplende di bellezza, i segni del tempo sono attenuati. Formulati con Koishimaru Silk EX, ingrediente fondamentale SENSAI, e ingredienti anti età della linea CELLULAR PERFORMANCE, questi fondotinta mantengono la pelle idratata e le donano al contempo un finish setoso e naturale. Applicare con la spugnetta in dotazione, con delicati movimenti dal centro del viso verso l'esterno.
Powder foundation that spreads easily giving the face a natural look and a feeling of hydration. Diminishes imperfections, giving a luminous finish. Thanks to their light texture, SENSAI anti-aging foundations spread easily and give the skin a natural finish and an impalpable sensation. The skin glows with beauty, the signs of aging are attenuated. Formulated with Koishimaru Silk EX, SENSAI's key ingredient, and anti-ageing ingredients from the CELLULAR PERFORMANCE line, these foundations keep the skin hydrated while giving it a silky and natural finish. Apply with the sponge supplied, with delicate movements from the center of the face outwards.